Other Freewares and useful site
Blender
CD Recover
ffdshow
Microsoft OneDrive(Web site)
Virtualdub
Why Installer showed errors!?!?
---
Freeware codec soft.
When you wanna watch some kind of movies, ffdshow will help to watch many movies!

Screenshot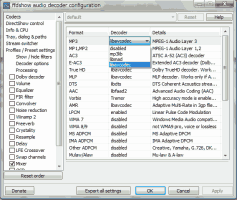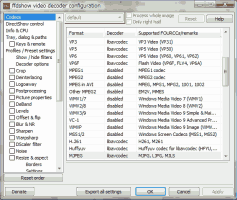 Doub-click ffdshow's start menu, and set options.

Example :

Click "Start" - "ffdshow" - "Video decoder Configuration".

Read movie again, this soft can read it.

---

Free online storage site.
You can upload photos and files to OneDrive about 5GB.

If you wanna use OneDrive, first you should create "Microsoft account".
Next, sign in OneDrive. You can use OneDrive.

How to use?
Create folders and click one folder. Drag and drop upload files, upload is start.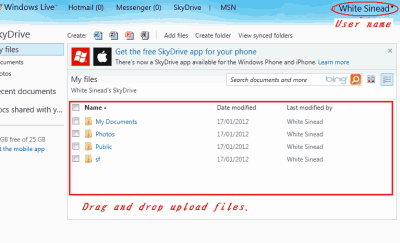 (OneDrive formally known as SkyDrive. The picture was Skydrive)


---

If someday you try to copy CD-R or DVD-R etc, and showed message, "Cannot copy ***. Data Error", use this soft.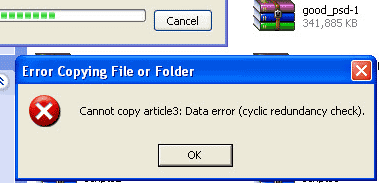 If data isn't damaged, CD Recover can copy it.
How to use?
Click "Input file" and choose copy file(For example, iso file, rar archive).
Click "Output directory" and choose output directory.


Serect "Skip on read error", choose "Skip 4kb" and click "Copy".
I used this soft to copy an error DVD-R, that content is I recorded TV program. About 2 hours movie, this soft can copy 1 hour 40 minutes movie!

---

Free Video Editor. Using plugins, various format movies can read!



How to create fast-forwarding movie or slow-motion movie?
From this site(Language : Japanese) Create movie2 Editing by VirtualDub

This time I explain about create slow-motion movie.
Start, this movie. I'll use their movie :)

Prepare for something beforehand
Virtualdub can read and create to use ffdshow, but movie's sound can't change.



This movie codec is "AAC", so at first download codec from here. Download "AAC ACM Codec(AACACM.zip)" and extract. If your PC is 32bit, use x86, if 64bit, use x64's batch file.




No double-click, right-click and choose "run program as an admnistrator". If command prompt window showed and no error occured, install is success.

The main subject

Run Virtualdub and read movie(Drag and drop).
Click "Audio" in menu, and choose "Full Processing mode".
Next, choose "Use Advanced filtering" in Audio. And after you can choose "Filters..."

Choose "Filters...", this window showed.

Click right-side "Add" and double-click "input" - "pitch shift" - "stretch" - "output".
Window changed like this. Double-click "pitch shift" and "stretch", and change their number. This time I'll create one-and-a-half times slow-motion movie, so I set both number "1.5"

Next, set "Frame Rate" in Video. Choose "Frame Rate", the window showed. Watch "current :" number and change number.(Create one-and-a-half times slow-motion movie, so set "Frame rate" number divided 1.5. And set "Convert to -" number near "current :" number).

Choose "Compression" in Video and choose encode format, and set bitrate in Configure. I use "ffdshow Video Codec" and set bitrate "3000kbps".
Choose "File - Save as AVI", input file name and click "Save". Encode started.

Completed!
Completed movie(only 1 minutes 47 seconds)

If create fast-forwarding movie, "pitch shift" and "stretch" number set lower than 1. And "Frame Rate", if you wanna create one-and-a-half times, set one-and-a-half times number, if create double, set double number. ("pitch shift" can set over 0.5).
Created fast-forwarding movie

---

High quality modeling and rendering freeware.
How to use blender version 2.77 or later version
From Blender requires a graphics driver with OpenGL 2.1 support.
Copy Opengl32.dll to installed blender folder.
Run blender.
First time rendering
Start Blender.
Push F12 key. Rendering is started.
If you wanna back, push F11. If you wanna save this image, click left-bottom "Image" and choose "Save as Image".
Tutorials
Gallery
I created from watching Blender Guru etc.



---
Why Installer showed errors!?!?
Sometimes installer showed errors.
For example,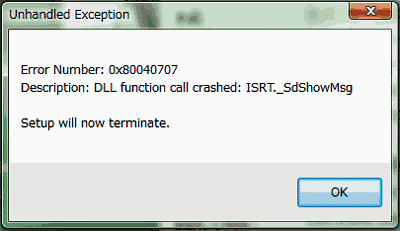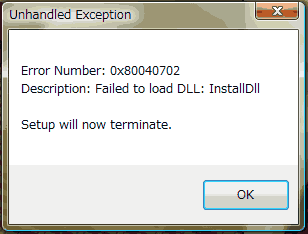 If "Failed to load DLL : InstallDll" showed, maybe this installer is broken or lacked files. So, try to download installer again. I resolved this problem.

---

Home
---